Exceptionally prolific throughout the course of his long life, Picasso achieved universal renown and immense fortune for his revolutionary artistic accomplishments, and became one of the best-known figures in 20th-century art.
Picasso Painting Sells For $179 Million, Breaking Art Auction Record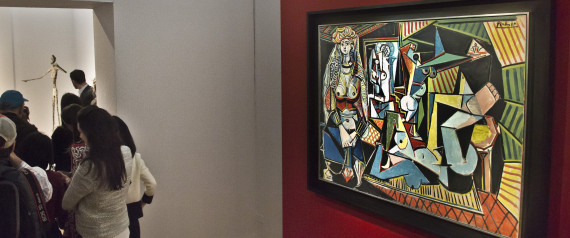 NEW YORK (AP) — A vibrant, multi-hued painting from Pablo Picasso set a world record for artwork at auction, selling for $179.4 million on Monday, and a sculpture by Alberto Giacometti set a record for most expensive sculpture, at $141.3 million.
Picasso's "Women of Algiers (Version O)" and Giacometti's life-size "Pointing Man" were among dozens of masterpieces from the 20th century Christie's offered in a curated sale titled "Looking Forward to the Past."
Christie's global president, Jussi Pylkkanen, who was the auctioneer, said the two pieces are outstanding works of art.
"I've never worked with two such beautiful objects," he said.
The Picasso price, $179,365,000, and the Giacometti price, $141,285,000, included the auction house's premium. The buyers elected to remain anonymous.
Overall, 34 of 35 lots sold for an auction total of $706 million.
Experts say the high sale prices were driven by artworks' investment value and by wealthy collectors seeking out the very best works.
http://www.huffingtonpost.com/2015/05/11/picasso-auction-breaks-re_n_7261600.html?utm_campaign=naytev&utm_content=5551f210e4b0c6fce33cd9f1&fb_ref=Default